DENVER PRESCHOOL PROGRAM INCREASES TUITION CREDIT SCALE BY 10.7 PERCENT FOR 2018-2019 SCHOOL YEAR
More funds make it possible for Denver 4-year-olds of all socioeconomic backgrounds to receive a high quality early education.
DENVER, Jan. 30, 2018—As part of its ongoing mission to improve preschool access and affordability, the Denver Preschool Program (DPP) will increase DPP's Tuition Credit Scale by 10.7 percent beginning the 2018-2019 school year. This increase, along with changes to the structure of the scale that drives more support to Denver's most vulnerable families will give more families the opportunity to enroll their 4-year-old in a quality-rated preschool program of their choice.
"While considering the implications of Denver's changing demographics, we realized the need to augment our traditional tuition support model with a more nimble system that can drive meaningful change in Denver's preschool network," Mike Yankovich, executive director of the Children's Museum of Denver and DPP Board Chair said.
"At the same time, with the tuition credit increase, we're pleased to make preschool more affordable for even more Denver families," Yankovich continued. "Not only have we increased support overall, but we've made several updates to our sliding scale to allocate more funds to families who need it most—those in the three lowest income tiers."
About Preschool Tuition Support
As with prior years, more than two-thirds (70 percent) of DPP funds are allocated to the tuition credit scale to help all Denver families with a 4-year-old, regardless of income, pay for preschool at one of DPP's 250 affiliated programs. Funds are provided by a dedicated 0.15 percent sales tax first approved by Denver voters in 2006 and reauthorized in 2014 to extend to 2026.
The Denver Preschool Program's tuition credit scale is designed so that the families with the greatest financial need who have a child attending a preschool of the highest quality will receive the most tuition support. For example, a family of four that earns less than $25,000 per year with a child enrolled full-time at a quality level four provider will receive $691 per month ($8,292/program year). The tuition support is distributed directly to the child's school on the family's behalf.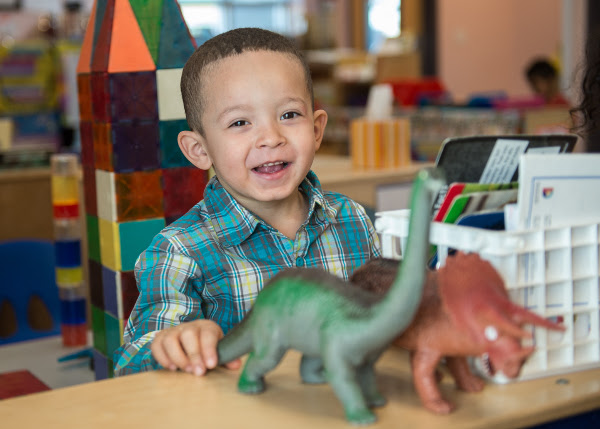 Photo: Carol MacKay
Tuition Support Applications Accepted Year-Round
Requirements for receiving tuition support remain the same: Tuition credits are available to all families that reside within the City and County of Denver and have a 4-year-old enrolled in a participating preschool in the year before kindergarten. The amount of support a family receives is based on the family's income, the quality rating of the chosen preschool and the length of day a child attends. Preschools are rated for quality by Colorado Shines on a scale from one to five, with level five representing the highest quality. Family income is represented in five tiers and is determined by household size and annual earnings.
"Tuition support is a valuable benefit for all families," Jennifer Landrum, president and CEO of the Denver Preschool Program said. "It increases the likelihood of a family taking advantage of early childhood education opportunities, which gives their child a chance to learn, grow, become ready for kindergarten and ultimately have a brighter future."
The Denver Preschool Program accepts tuition support applications year-round; however, parents are encouraged to explore their preschool options for next year now using DPP's Find a Preschool Tool.
Parents can download the DPP tuition credit sign up form.
The 2018-2019 Tuition Credit Calculator.
About Denver Preschool Program
The Denver Preschool Program makes quality preschool possible for all Denver families with 4-year-old children through a dedicated sales tax first approved by voters in 2006 and renewed in 2014. DPP has provided $92 million in tuition support to help nearly 46,000 Denver children, through the 2016-2017 school year, attend the preschool of their families' choice, establishing each child's foundation for lifelong learning and success. More information about the Denver Preschool Program and its participating preschools is available at dpp.org.